"It's a recession when your neighbor loses his job.  It's a depression when you lose yours."
– Harry S. Truman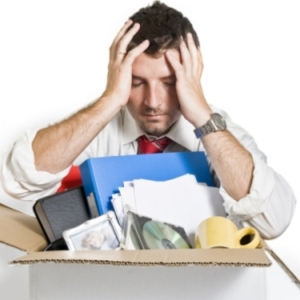 Job loss when you knew it was coming can be stressful.  However, losing a job when you weren't expecting it is devastating.  It can shake up your world like few events.
In fact, the Holmes and Rahe stress scale, a ranking of life's most stressful events, lists job loss as the eighth (out of 43) most stressful life events.  Only death of a spouse, divorce, marital separation and imprisonment rank ahead of job loss as being more stressful.
Job loss can create a significant financial stress that can affect both the individual and the family.  It can create barriers between spouses and children.  And, the individual also likely takes a significant hit to their self-esteem.
As a person experiences job loss, they will need to work through the five stages of grief (denial, anger, bargaining, depression, and acceptance) so they can move on with a positive mindset and a concentrated focus on the future.  It is important that they work through this process and take the time needed to get over the job loss.  It is imperative that the individual put the event behind them so they can focus positively on the future.
Once the grieving process is complete, individuals should develop a game plan to get back to work and to what they like doing.  Here are seven tips those experiencing sudden, unexpected job loss can do to land a job in today's job market:
Reach out to your existing network of contacts for assistance. Your network of friends, family members, colleagues and others can offer you meaningful assistance in your quest to be back to work.  Networking has been (and will always be in my opinion) the most successful job search  method, as studies report between 60 and 80 percent of job seekers find jobs through this search method.  Even if your network connections cannot hire you, they are likely able to offer you advice, tips, leads, introductions, and more.  Spend time contacting your network connections to alert them that you are targeting a specific job.  If individuals know, like and value you, then they will want to assist you if they can.
Get involved in your community through meaningful volunteer initiatives. Volunteering offers numerous benefits to those that give of their time.  Specific benefits that can be garnered include:  building a stronger, larger network, enhancing your reputation as a leader in the community, gaining joy from doing something good for others, having fun and much more.  Seek out volunteer opportunities that will allow you to highlight skills in an area in which you have expertise.  Simply put, volunteering can lead to tips, leads, introductions, and even job opportunities.  Lastly, a recent study shows volunteers have a 27% higher likelihood of finding a job after being out of work than non-volunteers. Volunteerism is both a win for you and the community.  Get out and volunteer; it is a smart use of your time.
Refresh and/or update your résumé. Most job seekers add stress by waiting until the last-minute to update their résumé.  Make sure to review your résumé and ensure it is current with your recent employment details, especially on-the-job accomplishment/result statements.  Even if your résumé is up-to-date, review the document looking for areas to strengthen the language or add additional accomplishment statements.  Make sure to include key specific accomplishments/results for all of the positions detailed on your résumé. Quantifiable accomplishments, not job responsibilities, will likely determine your employability.  Think about it….the résumé is the only item that the job seeker has 100 percent control over so exert your influence over this important marketing document.  Additionally, remind yourself it is about the employer's needs, not yours so ensure the résumé highlights the value you'd bring to the employer if you were hired for their job.  Lastly, those targeting new jobs need to customize their résumé for every job they apply for, making it easy for the employer to see their value and how their skills, experience, education, and credentialing can help the organization.
Keep existing skills sharp while adding a new skills or credential. Take advantage of your time away from work to pick up a few new skills that will make you more marketable and valuable to a prospective employer.  Identify skills, proficiencies or certifications that are valued in your industry and take action to update your skills.  Prospective employers will be impressed that you have done this, and it shows that you'll likely be looking for opportunities to assist them to grow if they hire you.  Additionally, employers commonly ask job seekers the question during the interview, "what have you been doing since your last job?".  You'll be able to add your current efforts to your answer which will make a strong impression with the prospective employer.
Update your social media profiles, especially LinkedIn. A recent Society for Human Resource Management study found that 77% of employers are using social networks to attract talent. In fact, 94% of recruiters use social networking tools like LinkedIn.  Having a strong social media presence is critical in today's job market.  You can use social media to connect with other professionals, hiring authorities and recruiters.  Additionally, it offers the user a venue to share their expertise with others which could make a favorable impression with a hiring manager.  If you are a novice LinkedIn user, you might be able to get free training through your local library or a workforce development agency. Also, LinkedIn offers free webinars to users to help them get started.
Solidify your references and develop a reference sheet document. Reconnect with your former managers, colleagues, vendors and others that have or will serve as a reference on your behalf.  Get their confirmation along with the specifics on how they prefer to be contacted.  Once your references have been secured, develop a stand-alone reference contact sheet that you can provide to a prospective employer upon request during an interview.  Opportunity can happen quickly once a job search campaign has been initiated.  When a candidate is ready with references, they'll be able to show their confidence to prospective employers, especially when asked during the interview if they have references.  The job seeker can answer, "Yes", let the interviewer know what they would say and indicate that they have the reference sheet that can be left behind upon request.
Develop a job search plan along with your targeted success goal date. Craft a winning job search campaign with a specific, targeted job as the goal, and then establish a realistic goal date to achieve the objective.   Build a daily plan filled with action items that you'll hold yourself accountable for executing.  Without action, even a great job search plan is doomed for failure.  Fuel your plan with daily action, utilizing after-hours for online applications and networking.  Additionally, don't just rely on the mainstream job boards for job leads.  Utilize your network along with targeting marketing to uncover the hidden job market.
Develop a strategy to get over the unexpected job loss as soon as you can.  Then, ramp up your campaign moving forward towards your new job.  Remind yourself of your value daily even if the results are coming as quickly as you'd like.  When there is consistent action combined with a good strategy and a can-do attitude, failure is not in the equation.
Good luck!
———-
About: Bob Nealon is a South Florida-based Certified Professional Career Coach, Certified Professional Résumé Writer, Certified Employment Interview Professional and Global Career Development Facilitator focused on training and coaching clients to achieve success in their job search campaign and careers. Bob has trained over 5,000 clients with strategies on how to best compete in today's ultra-competitive market to land the job or advance their career.  Learn more by visiting www.careercoachbob.com.  Contact Bob via e-mail at Bob@careercoachbob.com.