"One important key to success is self-confidence. An important key to self-confidence is preparation." – Arthur Ashe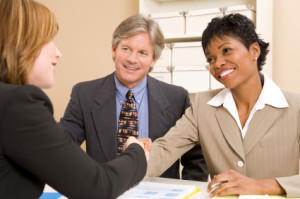 Preparation is the key to success with anything in life and this is especially true in interviewing.  Unfortunately, most fail to master the art of interviewing due to lack of practice.  A recent study conducted by Jay Block, Motivational Career Coach, found over 90% of hiring managers indicated most interviewees do an average job and many aren't prepared at all1.
I believe that the job seeker's goal on an interview is to get the job offer.  The interview is the critical part of the hiring process whereby the candidate is attempting to show their value, make a connection all while attempting to enhance their "likeability" factor.  Without strong interviewing skills, the job seeker is less likely to land the type of job at the salary desired.  Jeffery G. Allen, author of How to Turn an Interview into a Job, suggests,
"The inescapable truth about getting a job is that the interview is all that matters.  As for everything else – research, résumés, letters, and phone calls – it's all used as back up for the crucial meeting."
One question that requires significant preparation on an interview is, "Why Should We Hire You?".  This is a great question to be asked on an interview because this is your sales pitch.  The interviewer is really asking the candidate what can you do for the company or how can you improve our performance.
Here's the wrong way to answer:
"I really want and need this job."  This is of no concern to the prospective employer.  The job seeker's employment status is the job seeker's problem – not the employers.  Job seekers need to answer this question highlighting what they can do for the employer to improve performance.
5 Steps to effectively answer the "Why should we hire you?" question:
Show gratitude and appreciation. Don't lose the opportunity to thank the interviewer for allowing you the opportunity to learn more about their specific needs and that you are grateful for having been allowed to interview for the position.  You don't need to go over the top here.  However, it is important to thank the interviewer for the opportunity.
Indicate self-confidence. Let the employer know that you can do the job.  Additionally, offer some detail including previous successes that relate to the position's key needs.
Indicate interest in the position. Amazingly, very few interview candidates let the employer know that they are interested in the job.  Be clear to the interview know that you are interested in the position and would get the employer any additional information as soon as it would be needed.
Remind them of your value/give your sales pitch. You've likely already let the interviewer know that you are interested in the job.   Follow this up by letting them know you can do the job.  Give some specific examples of how you've successfully done it in the past (or would do it).  Make sure to let them know what you can do for them in terms of improving performance.
Highlight your uniqueness (added value). Maybe you've got some credentials that aren't required, but could prove valuable.  You might want to mention this.  Possibly, you've got some good connections that could lead to business opportunity. Again, you might want to include this as it is something that you possess that others may not.  Leave them with the firm impression that you have what it takes and you are the solution to their problem.
Putting it all together:
Let's assume a candidate is interviewing for a sales executive position.  The candidate could answer this question like:
"Thanks, <interviewer's first name>, for allowing me the opportunity to interview for your team's sales executive position.  I've enjoyed learning more about your specific needs.  I want to let you know that I'm very interested in this position and would welcome the opportunity to continue on in your selection process.  As a note, if you need any additional information about me, please let me know and I'll gladly get whatever you might need.

Also, I can absolutely do this job.  In fact, I'm confident I could exceed the performance goals set for the position.  With over ten years of sales success and business development, I've been able to exceed sales targets every year, I've been in sales – mostly by over 10% growth annually.  Previous managers would describe me as relentless focused on success and striving to win – all while ensuring the clients' needs are met.  I've proven to be a team player focused on team success, not just my individual quotas.  I've got very credible references that can validate this that I'll gladly provide to you.  I can also leverage some of my current business relationships to open doors for your company as some additional value I provide.  Lastly, based on our conversations, I believe my personality and drive mesh well with you and the team members I've met through the interview process. I'd love to show you what I can do for you."
Make it your goal to be prepared to convince the employer you are the candidate that they can't live without.  Good luck!
Source:
1Block, Jay.  5 Steps to Rapid Employment:  The Job You Want at the Pay You Deserve. (McGraw-Hill, 2014).