"Pulling a good network together takes effort, sincerity and time." – Alan Collins, author of "Unwritten HR Rules"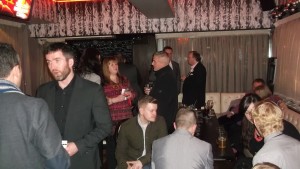 Networking is the most effective job search method.  It is, was, and will always be the best job search strategy.  Statistics show that between 60 and 80 percent (various studies with differing findings) of job seekers find their job through networking.
While the statistic fluctuates, it is safe to say that whether the actual success rate is 60% or 80% that networking is very effective.  Unfortunately, many job seekers don't spend the time necessary to build and maintain a powerful personal and professional network.
This blog post is about developing a powerful personal introduction so we'll agree that networking is something a job seeker needs to spend time doing.  And, if you're going to do it, I encourage you to do it well so you get better results.
Let's start here……networking is a two-way street.  While the job seeker may be networking for their own personal benefit, I strongly recommend that the job seeker also offer assistance to the other person whenever they possibly can.  A healthy way to think about networking is that you need to give in order to receive – or you offer assistance to receive information in a job seeker's case.
When you are networking and start a conversation, maybe you'll say "hello" first or the other individual will.  Then, the network connection will ask you one of two questions:
Tell me about yourself or Tell me about your background
What do you do? or What kind of job are you looking for?
Most don't possess the skill of introducing themselves effectively on the spot.  It takes significant practice to be able to do this well.  Rather than awkwardly fumbling through an introduction, simply practice to do so more comfortably…and, likely, more effectively.
Here are some simple tips to assist you to develop a powerful personal introduction:
Write (or type) it out. Start by writing what you'd like to say on a sheet of paper.  Your message should include 3 things:  1) who you are, 2)  what you do, and 3) your call to action.  You have likely 15 to 30 seconds to make a favorable impression so make sure your introduction is clear, concise, and has a "WOW" element.  Example:
Hi, <network contact name>, my name is Bob Nealon and I am a career coach.  I've been assisting professionals for the last ten years to develop effective job search or career advancement campaigns.  I have expertise in resume writing, interview training, job search strategy, individual coaching and more.  I love what I do and it is exciting to play a role in assisting a client to achieve their career objectives.  I'm always looking for opportunities to speak in the community or write about job search topics, if you learn of any in the future or know of any now, I'd be grateful to learn of that information.  By the way, what would be a good for referral for you?  How can I assist you?
Read it out loud (practice). It is not enough to just write it out.  Rehearse by reading it over and over and over again until you truly understand the core messages that you want the network connection to know about you.  In my case, I want them to know that I am a career coach and have skill in resume writing, interview training, and job search strategy.  Also, I want them to understand what my "call to action" is which is that I'm looking for speaking opportunities within the community.  When you know your core "talking points", you be able to smoothly introduce yourself.  In fact, you might find you use different wording each time as you deliver it live.
Know it cold. Practice enough so you have your core (or most important) messages memorized.  It can be tough to memorize a script.  However, it's much easier if you remember the key messages and can put the language around these talking points.  The key here is the continually practice.  Practice, practice, practice.
"Sell" it when delivering it live. When you know your key messages well and have practiced frequently, you'll be in a better position to truly sell the listener about who you are and what you do.  It is not that you are selling them; rather you want to leave your network contact with a very favorable impression of you.  Hopefully, you have impressed them with your very best.  When you accomplish this objective, you will find individuals will want to learn more or they will be thinking of how they can assist you.  They might be able to offer you a tip, lead, referral, facilitate an introduction, or something else meaningful.  That's the goal.
When you network effectively, you increase the probability of getting useful information you can put into action.  Again, you might receive a tip, lead, referral, introduction to someone else, or something else meaningful.  You don't need pats on the back or hugs when networking, you need useful information.
Put the time into practicing this as it will allow you to have better results when you network.  Get out there and network your way to success.  Good luck!